May 20, 2018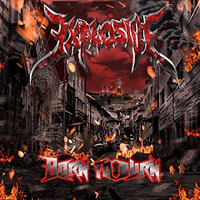 The Psycho intro is driving the base of the dark march, rolling in gloomy waves - the vocal entering breaks this cover to smithereens, starting the Explosive - Born to Burn album with a stream of frenzied drive. But in the chorus this march returns, showing vicious stubbornness. The darkness envelops intro with the dark fog, promoting the Rage story in an average tempo, the vocals complement the composition with artistry, then the bridge brings a wave of hard drive and the final part begins with a chorus, continues with a guitar solo and ends in a pulsating dark confession. Continuing the gloomy style of the beginning of the album No Way Out carries away the waves of dark power, rushing in the gloomy streams of average tempo, summing up the chastuyam thick and viscous majestic fractures of the gloom, raising the chorus to the top of the black tower of the evil necromancer.
The Broken Soul introduction brings shades of dark romance, enveloping music with the hard blues atmosphere, vocal reflections leisurely march between the shafts of the musical anthem, giving the mid-tempo composition of majestic significance and bringing it closer to the ballad.
Uncertain notes are combined in a string of doubts, then the sound becomes confident in choosing the direction, then the vortex of the guitar passage gathers disparate thoughts, blowing the music rush to the swift bridges, emphasizing the composition's title Speedblast in the choruses.
Fading into the fetters of the average tempo, the Lust vocals are given to reflections and doubts in the dark fog of powerful passages, the instrumental solo tends to be liberated by a furious rush, but it is not easy to break these rusty grates.
Acoustic solo seems to detachs from the powerful drive by a thoughtful sadness, then the guitar passages combine melody and power, erecting the immovable firmament of the epic castle, bringing the ground under the vocal phrases, confidently promoting their sound to the embodiment of ancient legends in the The Game of Pain musical image.
Drum roll gathers under the banner of the march of the warriors, slowly gathering in the puff and explodes Hellexplosive together with the connection of the vocals. But the drum roll from the introduction completes the composition and album with a battle march.