February 01, 2023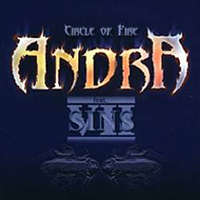 The pressure of the guitar drive of the introduction pumps up the gloomy atmosphere of the sound of the Bloody Lies song, beginning the musical narrative of the Andra - Circle Of Fire album with a harsh and gloomy story, continuing it with the mesmerizing sound of a guitar solo with an intriguing background of a keyboard suite and embodying the significance of the Love Changes To Hate story with a vocal part that emphasizes its meaning on the dispute of the main female vocals, complemented by background phrases of male vocals.
Eneri's strident drive of guitar riffs rolls in waves of the False Religion main motif, paving the way for the pensive phrases of the vocal part, combining male and female vocals, exalting the motifs of the introduction in the pre-chorus bridge, anticipating the opening thoughts and further pressure of the furious drive and assertive musical passages of the Ratrace composition, combined with a charismatic vocals narrative.
Acoustic guitar passages create a romantic background of moonlight for inspired vocal reflections, then bringing to the fore the Broken Mirrors bard ballad vocal part, condensing and fierce sound in the final part, preceding a tribute to the legands of disco music of the 80s reinterpretation and re-mastering of the I Will Survive (Gloria Gaynor cover) unforgettable composition.
In this varied and exciting La Rosa Del Amor composition, the vocal part changes the English lyrics to the Spanish... culminating in the sound of a festivities in the tavern. Assertive and combative riffs, in addition to drumming, create the atmosphere and mood of the I Share Your Dreams battle march, accentuating the rhythm of the procession, somewhat pacified by vocal reflections. Music and vocals are intertwined in the fascinating dance of the Angel ballad, leading the listener to penetrate into the unexplored expanses of sensual experiences, anticipating the impressive unity of melodic artistry and vocal charm of The Circle Of Fire final title track of the album.