January 30, 2018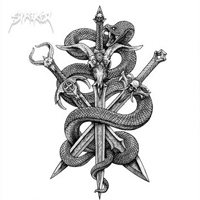 Joyful and playful composition Former Glory begins the Striker - Striker album, curling in bright musical delights, showing an enthusiastic mood, admiring the newfound fame and achieved honors.
Furious Pass Me By drive brings a severe and disturbing influence of fear and anxiety, anticipating the impending disasters in the impetuous drive of the couplets and sophisticated thoughtful prophecies of the choruses.
Mysterious fog envelops everything around the mysterious dusk, through which the Born to Lose music rushes fearlessly and confidently, creating a bright tunel of sound, paving the way for subsequent pilgrims. The sacramental mystery of instrumental Cheating Death intro is preceded by the gloomy musical image of the mid-tempo composition Shadows in the Light, in which proud and subtle vocal phrases arise over the musical twilight.
Meditations of vocal doubts are intertwined in a whimsical mosaic with bright guitar melodies, aiming to throw out the surrounding musical fog of Rock the Night mystery, seeking freedom and casting doubts about the surrounding nightly twilights.
Accumulating energy into the introduction, Over the Top then creates a powerful and energetic flow of confident drive, powerfully radiating energy, confidently approaching deep, dense and severe musical waves to the majestic and enchanting instrumental solo.
The fascinating Freedom's Call introduction ends with a stream of uncompromising drive of the verse, followed by a sparkling bridge, which precedes the chorus of delight. In the instrumental part, an exciting spectacular guitar solo.
Severe and alarmed gloomy reflections Curse of the Dead are carried off on the ghostly wings of rapid musical breaks through the surrounding darkness, trying to indicate safe limits to stay alive. This composition completes the main part of the album - but there is a bonus in this edition.
Praising legends, playfully and enthusiastically Desire (Bonus Track) Ozzy Osbourne cover completes the addition of the album.