February 19, 2018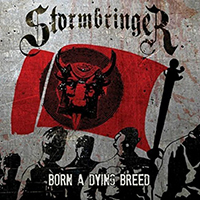 The dense wave of severe drive, rich sound and powerful energy embodies the atmosphere of the Stormbringer - Born a Dying Breed album, asserting its energy first in Don't Trust Me song, accenting title at the end of the chorus stanzas.
Even more dense and sterner will catch up with the wave of dark drive Bleed For intro, the music becomes more rhythmic and softer with the introduction of vocals.
The Pay Your Respects main motive is the viscous sound that binds the movements of musical thought, vocal conspiratorial phrases intrigue and cloud the thoughts.
Playful and excited mood covers mind by Through These Eyes song, but mysterious and playful impulses are thrown on a dark and creepy background.
Tougher and thoughtfully Let It Begin develops vague reflections, embodied in vocal phrases, advisers against the background constantly point out "You got to go"! Enthusiastically and impetuously splashed desire for freedom, pulsing in a rebellious rhythm behind which do not have time to go through for viscous and twilight Stick to Your Guns guitar riffs, vocals epic and touchingly chant past and future battles. In the instrumental part, dreamy romanticism arranges a respite, anticipating romantic dreams of vocals.
In view of the name Dying Breed is perceived as a title track, slowly and proudly carrying the bright banners of the epic ballad.
Guitar riffs are hovering around vocal reflections, bringing romantic reverie to the Smother choruses.
The captivating and fascinating Consequence main theme encompasses the hot prairie surrounding the hot winds, the vocal playfully reflects on the wasted time and another wasted day.
In the final album's composition Never Again couplets consist of questions and answers to them, the chants are sung by the name, promising that never, absolutely never you will not see me again.