September 28, 2017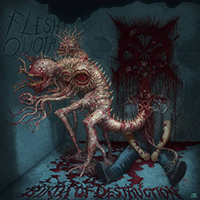 The sound of rain, the thunder and the approaching storm create so gloomy introduction There Is No Savior, the leisurely viscous riffs oppress the hope for a positive outcome of the impending horror. Powerful motifs bloom the mood for the next song, Welcome To Hell, continuing the Flesh Quota - Birth Of Destruction album in a zealous, fierce and irresistible drive, sweeping away any resistance, in which sparkling melodic sparks.
The pulsating sound of Reflections begins with a wave of screaming, supplemented by the notes of the growling, then changing their positions in the gloomy, frightening dusk of the vortex on the verge of the abyss.
Composition, named as the band, Flesh Quota starts with quick drive, rapidly rushing towards the upcoming horrors. Then pulsating phrases and sharply stuck vocal, combining guttural growling and creaking screaming, exacerbated the horrifying impression.
Rhythmic, clear vocal phrases combines musical ideas in the Bleed To Exist march, circles in the whirlwind of an exciting dance in the choruses. Then, confidently and artlessly moving towards the chosen goal, the composition ends.
The main motive of Two Hands envelops with the whirlwind of the deadly dance, sparkling with sharp blades, completing both hands - this is embodied in an enchanting mix of screaming and growling in vocal parts.
A swift Punisher introduction hints at the influence of the thrash metal style of music, blowing in the impatient flow of the verse to the pulsating bursts of the chorus.
The noise of the bonfire and the hard rhythm combined with the alarming melodic guitar riff creates Suffereign's introduction pulsating in splashes of bright melodic ideas.
Powerful drive and vocals immediately begin a fairy tale about Metallic Snake, then softening the style and sounds something like a kind of heavy metal.
Drums imitates either the tapping of the railway wheels, or the machinegun bursts in the Ghosts introduction, basing the subsequent main motive on which the entire composition is built and repeating in the bridge before the chorus.
The gloomy motives of Pulled Apart shrouds in anxiety, the impenetrable gloomy fog, vocal phrases only exacerbate anxiety in pulsating musical impulses. Buzzing guitar breaks precedes the Mental Anarchy vocal phrases, alternating rolling like waves of the sea, striking the coastal slopes, the musical canvas completes the music... the grim laughter of the old witch completes the album.