October 15, 2021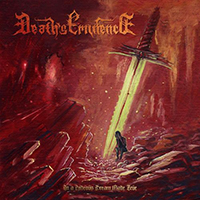 The Omens Of Chaos On The Battlefield Of Sacred Duty begins the mysterious guitar solo, then the music and vocals are twice the demonic smack of twilight ambiguity. The Unbound Molecular Reasoning composition begins as mysteriously, but then the tempo of music accelerates, continuing in the musical flow of a discreet drive. The Brief As Each Other's Thrall song continues the sound of the Death's Eminence - In A Hideous Dream Made True album with a vortex of a fierce drive, whipping vocal phrases of twilight swirl guitar riffs.
After the influence of the When Acid Consumes Them intro music combines the fury of vocals with a musical drive, sometimes again and again returning to thinking. A confident and assertive procession is powerful and thoughtfully driven up its rhythmic taire in the sound of the Unworthy Recipient Of The Gift Bestowed In The Form Of Death song. The Incantation Sheathed first progressively complicates the rhythmic structure, but then the violent militantness of the musical thriller.
Adhering to the path of the leitmotif after the vocal delimony the Inescapable Awakening composition enchants a bright guitar solo. The Ensuring The Achievement Of Infinite Impermanence song immediately puts forward the vocal batch on the foreground of the musical image. The Instantaneous Obliteration final album track returns to progressive complication of musical variations.