October 20, 2022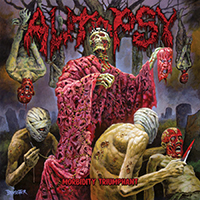 Persistently, furiously and rhythmically, the introduction of the Stab The Brain composition opens the musical gates of the Autopsy - Morbidity Triumphant album with waves of assertive drive, sometimes being transformed by the gloomy solemnity of a viscous dark anthem, ending with a bright guitar solo, anticipating the development of twilight mystery and dark solemnity in the sound of the Final Frost musical fairy tale, developing a narrative musical style in the sound of The Voracious One mid-tempo march.
The painful introduction sets a cause for fear, but then the Born In Blood deadly dance brings with its vocal part shades of joy from the bloody felling, intoxicated with the taste of blood and the feeling of someone else's death, developing a melodic final fragment in the unhurried procession of the Flesh Strewn Temple twilight march, continuing such musical twilight with the bewitching sound of the Tapestry Of Scars dark fairy tale, varying tempo and rhythm in its separate fragments.
A bright guitar solo serves as an introduction to the unrestrained and impetuous Knife Slice, Axe Chop musical tridler, wrapping vocals phrases with sparkling melodic echoes of legends and legends, more clearly embodied in the motives of Skin By Skin ritual chants with hints of witchcraft and spells.
But the Maggots In The Mirror composition soars in a swift whirlwind of the unity of music and vocals, followed by a painful instrumental fragment, then rising again and again in instrumental fragments, creating a backdrop for sparkling guitar solos, alternates with the swiftness of the vocals emotions of the Slaughterer Of Souls song, which precedes the end of the album with a fascinating Your Eyes Will Turn To Dust musical fairy tale.