December 27, 2017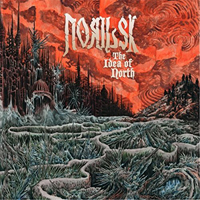 Viscous, stringy intro slowly and confidently begins Japetus, starting the Norilsk - The Idea Of North album with a dense and severe march. Vocal connecting to the song canvas mutes the music, mysterious and abxious guitar passages hang over it. However, despite the premonitions of trouble and anxiety for the coming events, music creates an atmosphere of dark charm.
Developing the idea of dark romance Planete Heurt sounds like an enchanting ballad, pensively rolling out the gloomy mysteries of obscure omens. But the dusk thickens, the music becomes denser and harder, the vocals are more nervous. But amid this gloom there rises an unforgettable, magnificent and so fascinating guitar solo that it is impossible to describe - it is worth listening again and again! But the twilight only recedes, returning again.
Unclear Throa fog changes everything around, becoming denser and tighter in the creeping waves of twilight anxiety. Vocal joins these meditations, bridge is followed by a soft and sensual respite.
Some waves of drive are flowing with a stern march La Liberte Aux Ailes Brisees, the vocals seem to hide on the background behind the accompaniment, rolling the guitar riffs onto the roadway of the chosen path.
The soft guitar fingring passages, rare keynoards notes and vocals, uttering their phrases in a subdued, whispered whisper, create a mysterious ballad Nature Morte that puts a lot of riddles.
In attempts to solve these and other riddles with light notes of anxiety, the Potsdam Glo vocals will outplay its parties, giving them at times nervous emotions, sweeping the tonality upwards, then again returning to the muffled mysterious phrases.
A pleasant melody of the instrumental composition La Grande Noirceur enchants with its soft and gentle shades, complementing them with chorals on the background, anticipating the title track The Idea Of North that completes the album. In the title track, the significant and undeniable romance of the northern expanses envelops soft and discreet vocal phrases with vortexes of instrumental motifs, investing in them more and more ideas and thoughts, varying the tempo and demonstrating a variety of stylistic variations.