March 02, 2019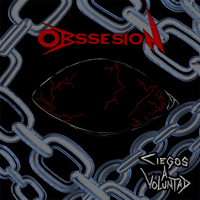 Persistently and annoyingly the title track's Ciegos A Voluntad intro rolls in a wave of anticipation, then anticipating the vocal entry, the main motive is transformed, giving the dominant role to the vocal, but again extolling its importance in instrumental bridges. Viscous, tightly and meaningfully, the Falsa Rebeldia introduction sets forth painful reflections, but then the music is transformed by swift vortices, indicating that the sound of the Obssesion - Ciegos A Voluntad album will be varied. The chorus returns to reflections, but then the instrumental part rolls over to the middle tempo narration.
Acoustic passages predetermine the romantic beginning, then the Me Asfixio En Tu Imagen main motive erect gloomy palaces, slowly and meaningfully erecting a gloomy castle of soulless skulls.
Machine-gun bursts, shots, explosions begin the mid-tempo narration of the Desertor song, soaring with gloomy trends around vocal phrases. The entry of the vocal forces an increase in tempo, but the instrumental bridges return again to the sound of the intro.
The instrumental composition Subditos injects insights into mystery, putting more and more new riddles and pointing out even the slightest prerequisites for their solution.
Thoughtful reflections of the gloomy romance Reminiscencia seems to separate the compositions, anticipating the final song of the album Tu Avaricia Sera En Vano, that completes album in the style similar to its sound - but more thoughtful and meaningful in the choruses.