October 10, 2016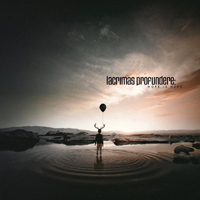 The moon comes out from behind the clouds, its light illuminating that Lacrimas Profundere - Hope Is Here for all of us!
A romantic story The Worship of Counting Down pave its way through unbelief and doubt, carrying it forward on the wings of the main motive. And the gentle moaning narrator finish this story.
Betrayed of sorrow, My Halo Ground contributes a share of vigorous impulse, music bringing a gust of energy and fury in the mind.
The title track Hope Is Here presents sad memories of unfulfilled dreams, but life goes on - there is hope here, now and ever!
Aramis travels in a ragged broken rhythms, revealing bouquet of emotions in the chorus without stifling of instrumental rabies, which will appease again in the next verse.
Pumping guitar anger, A Million Miles plumping sounds of its tunes. That takes a break for the verse to return during the bridge for the chorus uprising.
Gentle keyboards passages begins the fairy tale No Man's Land, revealing sadness and vague foreboding world of alienation from humanity.
Country-style story Pageant brings to the past with its tunes, recalling the forgotten expectations. Then after the remind of memories, keeps style in vocals, but music thicken the atmosphere and sound becomes tougher.
Romantic melodies are formed in a gentle touching story about You, My North, that sounds like gentle emotional ballad.
After gentle romance music saturates with powerful raged guitar riffs to point - it's time to Awake from from sorrowful romance.
Chiming clock, the howls in the distance The Path of Broken Homes folds as intro of the Timbre, gloomy ballad carrying us into the realm of shadows and covers with ambient atmosphere of the oppressive darkness.
But there is inexplicable peculiar beauty in the darkness and indescribable unimaginable charm - Black Moon shall sing about that phenomenon for all of us.
The modern form of Aramis (Eisbrecher Neuschnitt) [bonus] brings its sound to us from dance floor, pounding disco ready goths'n'gothess.