March 09, 2017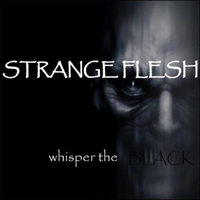 Strange Flesh - Whisper The Black creates energetic inspiration, sharp rough vocal phrasing carrying away doubts into the distance! Tight, viscous Season Of Sorrow sound drags into so thick fog, surrounding with vortex of the guitar solo.
The title track Whisper The Black is quite rhythmic and furious, powerful rolling strikes drives their music into space.
Powerfully and stubbornly Bitter End circulates an indignant whirlwind of cruel winds, demanding with persistent vocal phrases, speeding up the music stream from time to time. Tightly and confidently, Maker pushes, not stopping at any obstacles, twisting them confidently and purposefully during a long intro, Then vocal demanding jerks sharply declares its importance.
Romantic ballad Order Of Chaos captivates with the lyric streams of melodic motifs, creating an atmosphere of sad memories in a tender instrumental composition. Sermon Of Fire lights with convinced speeches, recreating a shimmering ghostly image, burning with fiery paints in a rapid flame.
The guitar fingering creates cryptic mystery of Solace, surrounding with sparkling imaginary dreams, combined in a sad brooding ballad.
Gloomy brooding riffs begin the story of the Beautiful Dead, sharply accelerating with the arrival of rough harsh vocals. A melodic guitar break raises the story to a new level, but this does not smooth the vocals.
Gloomy mysterious motives envelops with so impenetrable fog of the Carpe Machine saga, completing the album creating an unexpectedly mysterious image.