March 02, 2021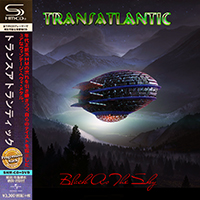 Inspirational keyboard passages combine in mesmerizing dance with guitar solos, anticipating the soft and sublime reflections of a light vocal breeze. Then the instrumental part of the Spinning composition enchants with a sparkling extravaganza of intricate and technical instrumental lace. The Shine song continues the musical of the TransAtlantic - Black As The Sky album with a romantic atmosphere created by the acoustic chiming of guitar strings and the vocals of a gentle ballad.
The Black As The Sky title track envelops with the keyboards symphony, which rolls an artistic musical canvas, enveloping in imaginary temptations and vivid memories of distant wanderings. The Wind Blew Them All Away song returns to the gentle melodies of an acoustic ballad, bringing darker notes of experience with vocal phrases.
Echoes of futuristic echoes and keyboard passages, bringing the whirlwinds of cosmic currents, continue the leisurely procession of the In Held ('Twas) In I inspired romance, bringing thoughts of the lost and sad memories to a guitar solo. The Rose Colored Glasses song develops the motives of the previous composition into a vivid inspiration of a dreamy fairy tale, in which the vocal part comes to the fore of the musical image. After a short drumbeat, the final composition of the album And You And I weaves the charm of a progressive musical lace.