June 05, 2019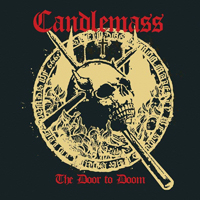 Darkly intrigues the mystical haze of the introduction, the couplet forces intrigue, embodying and emphasizing the name of the Splendor Demon Majesty composition in the chorus. Fascinating ballad unfolds a romantic lace of impressions from wanderings and adventures, rolling out a sensual musical canvas with thoughtful vocal phrases. Then the music is saturated with drive and the vocals are filled with emotions, transforming the Under The Ocean composition into an epic march. The epic saga Astorolus - The Great Octopus, retelling the ancient legend of the sea monster, a kindred creepy kraken, continues the Candlemass - The Door To Doom (Japanese Edition) album with significant covers of the solemn hymn. Especially in this composition fascinates incredibly melodic solo of the instrumental part.
Acoustic romance Bridge Of The Blind is lightly and sensually enveloped by the trends of incredibly pacifying music and thoughtful vocals reflections.
The combat march begins the Death's Wheel composition with drumroll and explosions, then the main motive rolls its stride along the chosen path, the vocals sings its part with a valiant soldiers chant.
The music of the Black Trinity song soars around the vocal phrases as gloomy whirlwinds, pumping anxiety and fear in the bridges and pulsing with a rhythmic procession in the viscous narration of the verses and raising a tornado of whirlwinds in the emotional ascension of the chorus. The House Of Doom track, that was title one in the previous band's EP, filled with harsh significance and dark forebodings, giving instrumental bridges the importance of grief with the ringing of the bells, emphasizes the name in the choruses again and again.
Beginning with a sensual romance, in the main part The Omega Circle it is transformed in a stream of sensual passion, introducing certain trends of the oriental folklore. This romantic ballad completes the main part of the album.
The bonus part of this release contains House Of Doom (Original Version) [Bonus Track], Flowers Of Deception [Bonus Track], Fortune Teller [Bonus Track], Dolls On The Wall [Bonus Track] songs from the House Of Doom EP, the title of which has already entered the main part of the album.