September 13, 2017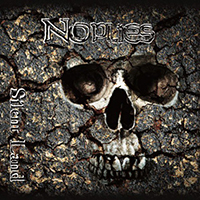 Without the slightest delay, the title track starts album Noplies - Silent Land, combining symphonic motifs with militant march, invoking all knights and squires to the final, archival battle.
Already in the introduction, the leitmotif is manifested, creating a mood and atmosphere for the further narrative, Colors not leaving the chosen path, twisted over the paved road with an unrestrained glorious melody.
Knights and other troops Go Away from their castles to battle, the main motive accompanies as the banners of the marching troops, enveloping with the charming atmosphere of the future glorious victories and heroic gests.
Enthusiastic melody, from time to time followed by worried passages and vocals confessions does not deviates from the chosen Alone direction, marching confidently and uncompromisingly. The procession is crowned with inspired keyboards passages.
Restless vocal phrases, disturbing harsh music create a troubled, tense atmosphere with Wind of Death around, in which the greatness of the spirit and keyboard passages demonstrate unbreakable resilience.
Anxiety somewhat changes its manifestation, bending in City of Crime music to rhythm and hard, clear phrases.
Inside Out creates a mystical, enchanting atmosphere, somewhat changing the stylistic orientation - you can see and dance motifs, and gothic guitar, keyboards and vocal shades. Again, the leitmotif, even in the Break the Silence introduction, subordinates the whole musical image to itself, from time to time exploding with bright instrumental guitars breaks.
The Give It Up vocals becomes harsher and tougher, again and again demanding not to give up, to resist until the last breath. In the instrumental part, the solo bass guitar creates the romantic background of romantic keyboards and guitar solos.
Tale Golden Throne in intro sounds as pensive ballad, then exploding with so swift stream of dreams and aspirations, but again returning to meditative reflections and rushes in bright rapid drive.
The reflections of the vocal duo about the surrounding phenomena, aspirations and romantic instrumental motifs hints at the ballad Rising, but then the music is slightly accelerated, but the still a thoughtful reflection is completing the song and whole album at all.