September 01, 2016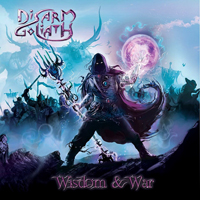 Contrast occasionally required - as Disarm Goliath - Wisdom And War , white on black background is much brighter!
Rhythmically comes indelible power of the Wrath Of The Gods, paving the way for mightily buduyuschim svetsheniyam, thrashing falling down barriers in their path with heavy blows.
Viscous energetic guitar riff opens the gate for Look Me In The Eye. Singer takes rhythmical sermon prophetic confidence and assertiveness, and then increasing the tempo. Chorus persistently demands - look into my eyes!
Dense tough riff burdens A Good Day For The Crows, starts as powerful heavy ballad, saturating the space around with darkly oppressive atmosphere, thickening clouds and covering with blanket of oppressive gloom. Then follows the pursuit of light and freedom, culminating in rapid spurts in discouraging pace - this atmosphere can't dispel otherwise!
Oceans Of Space full of melancholy, sad emotions saturates calm lyric ballad to the brim. Chorus increases the sound density and enhances the impressive gloomy sound.
The gloom and sadness Old As Sin, it is time to remove that as far as we can, so break off and dance - all will be rock 'n' roll!
Descent To Madness begins with disposable, unrestrained guitar riffs, crushing all obstacles in its path. Then, the same crazy rush continues in the verse, but the chorus is betrayed with thoughtful meaningful arguments until the next verse, that breaks down in the insane jerk! Heavy mighty blows at the gates of the mind begins Redemption In Blood. Then buzzing insistent riff, vocal enters with vortices of its phrases, that circles in the dance on the way, impressive with continuous emty thoughts.
Quietly, slowly, gently increasing its demonstrations of the contrast between Two Worlds, vocals with guitar inclusions breaks, wedged between phrases continues to drive confidently and onerous thought in the mind of listeners. After the viscous and clamped piece instruments erupt for fast fearless rush, then it combines with the first verse style. Thunderclaps and noise of the rain completes the composition.
Soul Destroyer crushing riff sounds of the rhythm guitar saturating sound for chants of the solo guitar. Then vocals in the cloak of the mirror sequins, reflecting the views of others, joins to the stilted passages of the solo guitar. After that follows vocals confession, slowly driving the story. Then this grandiloquent brilliance combined in unison 'till the end of the composition and entire album.