March 20, 2022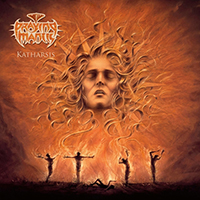 Inspirationally and thrillingly raising the banners of its Cry for the Nations title, the music opens the musical gates of the Praying Mantis - Katharsis album, then to confidently and meaningfully release the same procession of the Closer to Heaven march.
In a very playful and playful way, the Ain't No Rock 'n' Roll in Heaven song again and again clarifies and reveals the meaning of its title. The Non Omnis Moriar main motive entices you to join the thrilling sound in a single and enchanting journey, continuing in the enchanting Long Time Coming saga with echoes of minstrel ballads, bard songs and serenades in unity with vocal sparkle and charisma.
The sound of the Sacrifice ballad envelops with sensual feelings and envelops with enchanting romantic atmosphere, continuing the same musical style in the introduction of the guitar solo then raising the vocal part to the crest of the waves of the musical flow of the Wheels in Motion song. The Masquerade track begins with a sparkling chiming heartbeat of keyboard artistry, then augments the emotional sensuality of the vocal narrative with a rhythmic base of an epic valiant march.
The music and vocals intertwine in the thrilling dance of the Find Our Way Back Home composition, drawing you into the joyous whirlwinds of a musical dance, preceding the brooding motif of the Don't Call Us Now song, steadily building up its sound in the chosen musical direction and preparing you for the exciting conclusion of the album with The Devil Never Changes track.