September 11, 2021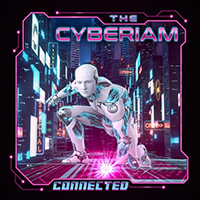 Multiple, the Interrogation Room B variable musical composition begins the musical narration of the The Cyberiam - Connected album with a complex and unexpected transformation of musical entities. The Moral Landscape song rolls the rhythmic canvas of the harsh march, again and again the transformation sound of musical discoveries and complementing the vocals emotion.
Entering with a soft guitar solo, the Wakeup Call romantic ballad enaches the melodic atmosphere and vocal sensuality. The Sunset on Mars song continues to create a romantic atmosphere, paying vocal reflections by sparkling ribbons of musical melodism. Sparkling musical motifs are combined with inspired vocal reflections in the In SaN1tY composition's musical lace.
The title track Be Connected fascinates the unity and creative variations of the main motive in a combination with a thoughtful vocals narrative. The Wilde Things song enchants mysteriousness and surprise of musical transfigurations, again and again opening new verge of musical sound.
The mystical charm of the Miles Away musical fairy tale fascinates an adventure and travel into the atmosphere through the melodious charm of sparkling mysterious haze. The Bigger Questions composition completes the musical narration in the atmosphere of a majestic mysteriousness.