April 03, 2020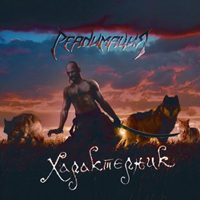 Inspirational tunes, like a whirlwind of thoughts in your mind while writing your beloved's Письмо letter during distant wanderings, complement the breathtaking flight of a guitar solo, opening the Реанимация - Характерник album with an impressive union of musical and vocal parts. Next, the Волк song again and again emphasizes the main motive of the musical narrative, retreating only to the inspired tunes of the vocal part, which describes the instincts and experiences of the beast, which has to run, fight and survive.
An inspirational ballad glorifies with a majestic anthem the epic significance of their native places, in which Моя земля inspires, gives vitality and is interwoven with invisible roots with the memory of the genus. The story of a sage announcing that a free man will remain free after death, but a slave will be a slave there too, after which a mid-tempo narration with a twilight musical atmosphere against the Было время background sometimes raises banners of significance with vocal tunes.
String chimes and vocal narratives add to the charm of folklore styling, combining the Козацька charm of acoustic music with inspired vocals and Ukrainian lyrics.
The swirling whirlwinds of a restrained drive of musical passages intertwine with the Я вернусь vocal part. The saddened Проклятие богов vocals reflections are complemented by a march of musical narration on the verge of an epic ballad.
The title track returns to Ukrainian lyrics, singing the significance of the Характерник the first for the cossack's army - these war magicians, sorcerers, healers, priests ... it makes no sense to try to find analogues of this hypostasis of the Zaporozhian army!
The Последний рывок pensive ballad with painful reflections complements the vocal melodies of the twilight passages of a romantic symphony. Embodying epic diversity in the Король composition, the music completes the album, based on the mesmerizing echoes of knight sagas, deepening the vocal narration on the verge of bass, giving it great significance and impression of the width of the vocal range of the soloist.