January 16, 2022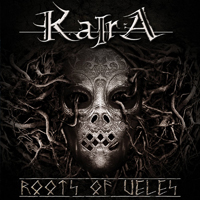 The mysterious and pensive beginning of the Каира - Roots of Veles album's title track is accompanied by an explosion of musical aggression, accompanied by the gods gloom of vocals reflections.
Rising immediately with supplication and weeping in the introduction, the Cry of pagan song again and again emphasizes its title, then with furious aggression. The Ingling saga rolls in waves of aggression, escalating the atmosphere of the combat march and fierce music and vocals in a single keynonote and stream.
Immediately voicing the title of the Revolution composition brings futuristic and industrial notes to the sound of the album, after which the Lost past ballad brings romantic notes to its sound.
Accelerating in nervousness and exhaustion, the Bleeding spirit song hardens the sound of a frantic drive combined with musical transformations, in anticipation of the frenzy of the Sin price drive, pressure and power. The No more track concludes this album with romantic thoughtfulness.