July 30, 2019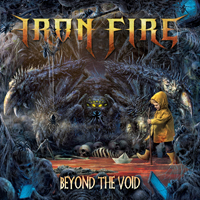 The ringing of the bell and the mysterious dusk of the Intro begin the album with a gloomy mystery, serving as the introduction of the Iron Fire - Beyond the Void album's title track, forcing waves of gloomy forebodings in the verses and raising the banner of gloom and rebellion in the chorus.
Driving in waves of a stern march, music of the Final Warning invokes vocal phrases to exasperation, but they are resisting, raising emotions in bridges and chorus. The mesmerizing dance of the northern wind and snowstorms brings to the music of the Cold Chains of the North composition of the trend of northern folklore, enveloping the music with sparkling brilliance and icy sparkling.
The foggy whirlwind of guitar riffs of the Wrong Turn song, supplemented by vocal experiences, continues the musical composition, then Bones and Gasoline after the epic mysticism of the introduction and the verse again and again emphasizes the name in the chorus.
Old Habits Die HardSeverely and significantly, the Old Habits Die Hard verses rolls the waves of a pulsating march in the verses, raising the banner of the solemn anthem in the chorus, followed by a swift guitar solo. Judgement Day ballad begins with a thoughtful narrative of the verse, raising the banners of greatness and significance in the chorus.
Having gained strength and energy, the To Hell and Back song becomes the heaviest and toughest in the album, the vocals in the couplet are also hardened, but the chorus envelops in epic charm. The mid-tempo One More Bullet composition, full of inspiration and praising the importance of the last chance, is preceded by the unbridled thriller of The Devil's Path song chasing the session of the rampant drive of the verse to the pensive mid-tempo march of the bridge to combine these trends in the refrain. Out of Nowhere ends the album with such a varied musical kaleidoscope, full of mysticism and mystery, like a mysterious ancient fairy tale.