December 17, 2021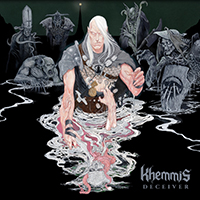 The sound of the Avernal Gate song rolls waves of twilight reflections and vague experiences, raising the vocal part to the top of the musical passages, bringing vocal reflection to the forefront of the musical image of the opening composition of the Khemmis - Deceiver album, which continues with the House of Cadmus romantic ballad, charming mysterious musical forebodings and sensual vocal meditations.
The guitar riffs pump up waves of twilight mystery, enveloping the Living Pyre song's inspired vocals musings with shrouds of mystery and obscurity of foreboding echoes of ancient fairy tales.
The musical narrative of the Shroud of Lethe epic saga seems to transport us to the medieval realms and enchant us with the echoes of ancient legends and the ascension of forgotten tales, enchanting us with dreamy vocal reflections and enchanting melodies of musical variations.
The sound of the Obsidian Crown song fascinates with the artistry of the musical variations and complements the dreamy melodies of the clean vocals with echoes of the twilight mystery of demonic screaming vocals. The Astral Road composition completes the musical narration of the album, starting with romantic ballad, but then speeding up the tempo in free-loving impetuosity, bringing elements of drive and energy into the sound of the album.