January 14, 2022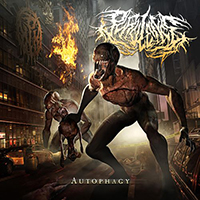 The rage, anger and tenacity of the Oncogenic Combustion song starts the Purulence - Autophagy album to continue with the furious depth and rage of the Ripped Apart track.
The guest vocalist brings a distinctive flair to the sound of the Cognitive Dissonance (Feat. Sam Taylor) song, anticipating the power and fury of the Cranial Explosions track.
The mysteriousness of the space echoes in the sound of the Unfound song brings a kind of mystery and a viscous mystery of unclear premonitions, anticipating the further power and fury of the sound of the Flayed By Solar Winds (Feat. Alexander Eastman) composition with the shadow of guest vocals.
The Meth-Induced Facial Excision power and fury of the Eaten Alive By The Gamma vocals rage sets up a musical frenzy. The musical canvas rolls out a furious march for the Eradication Of The Populace vocals procession.
Injecting the fierce power of rhythmic hatred, the Grinding To A Halt track serves as an introduction to the final act of the album, culminating in the power and hatred of the The Septiconaut composition.