April 20, 2019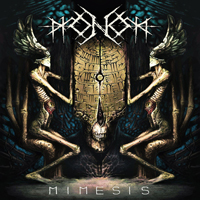 The mystical haze of the Fulgor introduction stirs the mystery of mysterious revelations, shrouding the beginning of the Pronoia - Mimesis album with a haze of obscure forebodings, from time to time plunging a musical image into knight marches and harsh processions. Contranatural complements the most severe and violent moments of the previous composition, plunging the mind into gloomy doubts. From time to time in the background there are mystical tunes, culminating in a dense rhythmic drive. From time to time guitars solos brings fascinating trends of so obscure inspiration.
The Convulso main motive is marching in a pulsing procession of confident shitheads, but musical motifs will envelop this journey with shades of mysterious mysteries, bringing more and more new mysteries into progressive musical lace.
Slowly pumping the illusory heat of a musical puzzle, introduction of the Nubla song intrigues with the progressive development of a musical image, embodied in a magnificent procession of a pulsating march, from time to time resting in an epic glow of musical delights.
Mystical sacraments envelops the axis of the Ritual musical narration with fascinating whirlwinds, creating a sparkling cocoon of fascinating sacraments of magical revelations.
The title track Mimesis envelops the album with unclear mysteriousness, weaving enticingly epic appeals, interweaving the trends of ancient legends in a gloomy haze in a wonderfully progressive way.
Enveloping vortexes of gloomy drive into introduction Implosion rises up with a magnificent anthem, then letting romantic inspiration musical passages to the forefront of the musical image, but then returning again.
The stern Portales anthem rolls in waves of reflections, then enveloping the rhythmic structure of the composition with a swirl of gloomy lace, doubts and feelings. Inmutable continues the trend of doubt, initially expanding the stylistic framework of the album, but completing them with mysterious and mystical obscure experiences.