February 24, 2021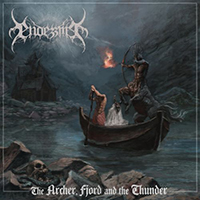 The Awakening mysterious instrumental sacrament, with the howling of distant winds, opens the gates of the Endezzma - The Archer, Fjord And The Thunder conceptual album's narrative, forcing the whiff of blizzards, sevrny winds and vocal prowess into the sound of The Name Of The Night Is A Strong Tower second composition. Twisting the intrigue of a guitar solo into a vortex of instrumental intrigue, the Anomalious Abomination track's music then wraps around the vocal phrases in a battle spiral. In the chorus, vocal significance comes to the fore in the musical image.
The album's title track The Archer, Fjord And The Thunder builds up the gloomy whirlwinds of a battle march, weaving the sound of a mid-tempo twilight anthem from music and vocals. But then the vocals and music rush into a frantic race of epic and melodic, but then return to the mid-tempo fairy tale, repeating this alternation again. Walking the path of a battle march into the Formless And Void intro, the vocals then intrigue with development, crowning the accelerated pace with sensuality and epic saga, , then developing these intriguing elements into the Garden Ov Heathen exciting main motive, topped with vocal experiences.
The mellow romanticism of a guitar solo intro with thumping thumps in the background ends with a captivating musical story combining emotional screaming and harsh growling in the Wild Glorior Death musical tale. The Open Your Eyes And Stab The Sight immediately explodes into a frantic whirlwind of musical thriller, but then everything is complemented by a musical variety of sound, adding even an epic note of a vocal tale. Softening the sound of the musical saga, the Arrows Of Equilibrium walks with vocal significance in a mid-tempo march with a progressive complication of rhythm, softening the vocal part in emotional ascension, after which the Closure mysterious tunes put an end to the howl of distant winds.