January 22, 2018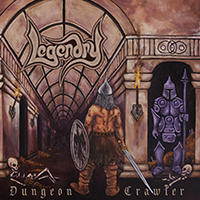 The epic march will mark the entry of the title track, which begins album Legendry - Dungeon Crawler with a significant celebration of the storyteller, enveloping in the significance of the legendary tales. But then the vocal phrases rush to chase the ghostly outlines of the legends, the musical passages dance in the whirlwinds completing the musical tacts. But then this playfulness and simplicity moves away from the epic instrumental saga, which extols the memory of ancestors beyond ordinary contemplation.
Confidently and ingenuously, the hero describes his past Quest For Glory, confidently and unrestrainedly expounding his story's fables.
The Rogues In The House main motive immediately covers its sound, not allowing to distract from his procession even for a bit.
Powerful and confident sounding A Witch Is Born song waves medieval twilight, complementing the spells of druids, brews and potions of witches and spells and magic of court magicians.
The Conjurer continues this same atmosphere, complementing the musical image with enchanting romanticism, fascinating the mysterious stories of the bard, broadcasting about wandering, wandering and enveloping incredible lyrics. In the instrumental solo, guitar and keyboards replace their solos with interesting and vivid improvisations.
A wave of belligerent pressure sweeps away the lyrical meditations of previous compositions, dispelling the romantic atmosphere with hard rush of drive rolling in the tough Shadows In The Moonlight march music.
Vocal experiences unites with a nervous musical fog in the anxious anticipations of the coming battles and shocks of Swords Of Zeus song.
But the charming, marvelous and sparkling melody The Edge Of Time draws a line under all these prophecies, tales and emotions - even if thoughts arise in the musical image, but this motif completes the album with encouraging and inspiring impressions.