December 07, 2021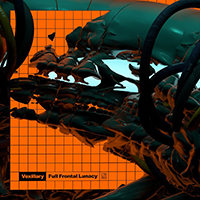 Energetic electronic pulsations create the atmosphere for the thoughtful vocal meditations of the Scent Of Torture (Feat. Warteraum) track, which opens the musical gateway of the Vexillary - Full Frontal Lunacy album. The Burnt Leather (Scorched Mix) composition moves the muffled whisper of the vocal part to the forefront of a mystical musical sacrament.
The Full Frontal Lunacy title track pulses with the unbridled zeal of futuristic electronic drive.
The sound of the Sanity Fades composition complements the psychedelic atmosphere of the musical variations with the corresponding vocal experiences. The Descent develops the sound with echoes of romantic reflections, varying and diversifying the music and the vocal part.
The musical energy and nascent attitude is embodied in the stubborn and unyielding sound of the Maniac track. The Absinthe Minded composition is transformed by a kind of progressive mystery, bringing to the sound of the album echoes of forgotten legends and hidden echoes of epic tales. Track Exit The Void closes the album with a transformation of echoes of youthful musical memories.