December 06, 2017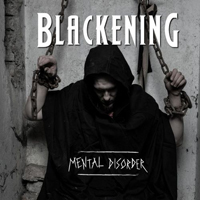 Softly and with restraint, inspiring romantic moods, instrumental introduction XIV begins the Blackening - Mental Disorder album, intriguing its further development.
After soft and gentle reflections, the wave of uncompromising drive R.I.B envelops with gloomy ghosts, the vocals creeps into this musical twilight with the rebellious spirit of uncompromising struggle, complementing the harsh style style with notes of screaming. Darkness does not recede, enveloping from all sides - but The Way Of Lost Hope can be seen, which, in hard dancing rush, allows the soul to free itself from the evil that binds it.
In Welcome To Hell the vocals clearly dominates by tying the accompaniment to follow its phrases.
Acoustic Valley Of The Damned introduction envelops with the atmosphere of mysterious romanticism, then the music turns into the expected drive for the style, however, retaining a romantic notes.
A violent, irreconcilable wave of musical drive flies to meet the battle, in the chorus asserting This Means War - there's tno need of any explanations, only so and not otherwise!
Waves of furious drive carry us through the stern space of the No Compromise (Feat. C.R.) verse, the vocal in which becomes harsher and tougher, in the chorus, with his speech, inclined the rest of the instruments to unquestioning obedience to his instructions.
Twisted in the clouds of guitar riffs circling around Zeppelin in the sky, the music rhythmically pulsates supporting vocals in his thoughts, then the vocals from the harsh turns to dreamy clean style.
Instrumental symphony in the The Day Of Vengeance introduction, slowly and thoughtfully revealing its musical charm is replaced by a fierce and irreconcilable drive, sweeping away any resistance from its path.
Whirlwinds of furious drive This Kill swiftly carries to meet an unknown goal, in bridges and instrumental parts this obscurity does not dissipate, on the contrary, it becomes even more fuzzy and blurred.
Playful musical mood, gloating grin of Devils Groove rejoices its invulnerability, silently laughing at human vices, sins and imperfections of spirit and flesh.
Continuing the grim terrifying abilities of the forces of evil, the Nightmare introduction envelops with the gloomy clubs of a dark fog. Willingness to face any enemy, to repulse him with No Compromise (Bonus Track) (Feat. Philipp H.). completes the album in an average tempo, which can be attributed to heavy blues or sludge.