August 01, 2021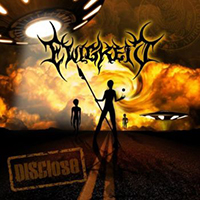 Saddened romance with a brief exclamation of the announcer begins a narrative of the 1947 song, in which the vocal styles are alternating between angry screaming and romantic and thoughtful clean vocals, while maintaining the charm of the musical accompaniment. The title composition continues the musical narration of the Ewigkeit - Disclose album with rhythmic pulsation, augmented vocal grinding, re-focusing the song's name again and again. But sometimes melodic musical bridges raise the charm of the dreamy pure vocal to the top of the musical heavens.
Specifying in the intro of the leitmotif of the sound, the Oppenheimer's Lament composition follows him throughout the sound, an insular guitar solo with artistic charm of keyboards and emotional experiences of vocal phrases. Rhythmically, tight and powerfully mischieving in the Guardians Of The High Frontier battle march intro, the musical procession is then inferior to the dreamy handles of clean vocals, shrouded with the circumference of romantic music passages.
The vocal story immediately advocates the foreground of the Resonance musical image, complementing the main vocals with lower and deep backdrop clean vocals. But then the vocal party is transformed, fiercely to a restrained growling, which blazing mysteriousness of keyboards. The twilight mystery of the sound of the Krlll song is enveloping vocal reflections by the vortex of impenetrable haze. The final composition of the album Moon Monolith envelops the listener with veils of a romantic atmosphere.