December 22, 2020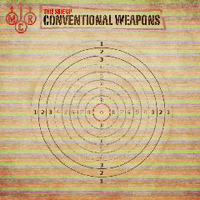 Exploding into a whirlwind of vocal emotions, the Boy Division song takes you on a fast journey, discarding the boring and tedious orders. The chime of traditional rum continues the My Chemical Romance - Conventional Weapons album, bringing in a mysterious combination of chime guitar riffs and the Tomorrow's Money rebellious vocals. Inspirational musical passages cast off worry and anxiety, then they are combining with the Ambulance hopeful vocal phrases.
The Gun rhythmic mid-tempo sound brings the fierce influences of traditional punk rock. But then the vocals bring in an adventurous mood. The World is Ugly rolls out a mid-tempo musical canvas, along which a rhythmic vocal narration with the mood of a romantic ballad walks. The Light Behind Your Eyes further develops ballad romanticism, combining vocal reflections in a mesmerizing dance with acoustic guitar passages set against a symphonic orchestral backdrop.
Returning again to violent musical rebellion, the Kiss the Ring twists music and vocals into a rebellious musical stream. As if transferring to the atmosphere of celebration in bars and pubs, the Make Room!!!! takes you into a whirlwind of entertainment. After entertainment and thoughtless rest, the Surrender the Night song creates a mood of thought, rolling in a haze of thought and doubt. The Burn Bright continues the mood of the previous composition, setting the final point of the release, as if asking riddles and finding their answers.