April 06, 2023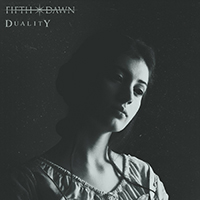 The symphonic charm of musical passages is intertwined in the artistic lace of vocal doubts in the verse, raising sparkling hope in the chorus of the Element song, continuing the sound of the Fifth Dawn (AUS) - Duality album with the hopeful atmosphere of the Defying Symmetry composition, bringing futuristic motifs and ultra-modern musical shades to the sound, returning, however, to twilight doubts in the mysterious atmosphere of the musical fog of the Another Reason mysterious ballad.
Expanding the stylistic framework of the album with echoes of the industrial musical style, the Pressure composition combines them with the sensual tenderness of the singing lady's melodies, bringing her lyrical essence of her vocals story to the fore of the Instinct musical fairy tale and the It's Cold Outside charming musical artwork.
After preparation in the introduction, the Finding Stars song confidently and meaningfully raises the vocal part on the musical banners, pushing with an inspired musical impulse in the stubborn persistence of the sound of the Cities Are Lost composition, complementing the musical assault with vocals charisma, bringing the vocal story to the fore of the High Towers musical image with shades of the battle march and the valiant song of brave fighters, anticipating the romantic charm of the Allure romantic ballad, which ends the album with the embodiment of tenderness and charm.