August 29, 2019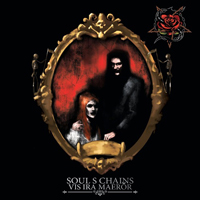 Inspirational reflections of the Adventum nequitas vocals phrases are entwined with a bewitching cover of symphonism, completing the composition with the grinding of demonic curses. Preludio alla dannazione continues the Soul's Chains - Vis ira maeror album with a bewitching symphony of introduction, after which the ruler's speech calls for a harsh drive, enveloping the furious screaming with enchanting melody and complementing it with inserts of female opera vocals.
Starting the watch at the introduction, Risveglio nella morte captivates with the bewitching sound of a romantic ballad, enveloping vocal phrases with a charming veil of slightly saddened feelings and light sadness. Then, a stream of restrained drive bursts into the composition, preserving a bewitching melody of sound. The title composition Vis ira maeror begins with the magnificent organ saga, then entwining with a bewitching lace of an epic symphony. The inspirational reflections of the opera singer are transformed into an explosion of demonic drive flying away on the wings of dark darkness, completing the Lilia composition with wise thoughts of vocals, using recitative and deep meaningful phrases of severe growling among the bewitching symphony.
The following composition consists of three parts - first, epic reflections Vento di guerra, Pt. 1: L'uomo e il demone envelops with the tales of ancient tales, fanned with ghostly shades of ancient military chronicles. Then Vento di guerra, Pt. 2: Piegato alla furia begins with a thoughtful narrative, then entwining whirling vocal phrases with vortices of passages of the main motive. Vento di guerra, Pt. 3: Fino alla fine concludes the triptych of this composition with a bewitching interweaving of symphony and drive, starting with a majestic symphony, then braiding the restrained drive fury with an atmosphere of bewitching symphony.
A leisurely symphony of the L'insidia di damien dark anthem wraps around the vocal variations with sparkling passages of mesmerizing musical variations. The soft and pensive atmosphere of the Liberaci dal male romantic ballad brings to the front line of the musical narrative the enchanting opera chants of the singing lady. The final composition of the album Speranza una perfetta menzogna embodies all its inherent features - and bewitching melodies, enveloping the mesmerizing tunes of the opera maiden, and the additions of a furious drive, and for the first time intertwines opera vocals in a trio - female, male and complementary growling. Outro ends the album by ringing back the notes of the main motive of the previous song.