October 10, 2019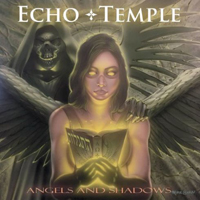 From the Ashes begins the Echo Temple - Angels and Shadows album with a bewitching guitar solo, vocal phrases bring thoughtfulness and a peculiar charm, raising the banners of unyielding prowess in the chorus. But in the atmosphere of epic tales, disturbing whirlwinds are soaring, entangling with mysterious threads of ghostly trends and again and again emphasizing the Enemy Within song's name.
The vocal raises the mystery of I Can't Be Dead fairy tale narrative, shrouded in sparkling notes of guitar fingering, then the guitar riffs bring waves of drive, while maintaining the bewitching romanticism enveloping vocal phrases. Ascending the banners of the twilight anthem The Palisade marches in the mysterious atmosphere of an epic march. Continuing the fabulous notes, Shadow of a Ghost envelops in the enchanting atmosphere of a minstrel ballad, soaring in enchanting trends of bard ghosts around fascinating vocal phrases.
A whirlwind of guitar passages envelops the Funkify intro with vortexes of a guitar drive, flying away on the wings of inspired melody. The pulsating mystery of the guitar solo is preceding so stern and awesome Rise Up march, vocals phrases add notes of epicity. The intriguing guitar solo of the intro retreats in front of the vortices of the Epsilon main motif, entangling with mesmerizing sparkling passages.
The soft and gentle atmosphere of romanticism envelops inspired vocal variations with the enchanting notes of the Sight of the Shore acoustic romance. Creating a bewitching canvas of fairy tales, the verse captivates with a ballad mystery, transforming the Angel of Darkness musical canvas into a medium tempo in the chorus, but fascinating with a charming guitar solo of the instrumental part.
Pumping up the waves of a disturbing drive, the harsh waves of which rolls in the Breaking Point song's sound, creating an intriguing mystery with background keyboard passages. A pensive ballad Biggest Part of Me continues the musical narration by unhurried trends of doubt and ghostly conjectures. Forever completes the album with inspiring riot drive trends, marching with a bewitching mid-tempo march on the verge of a ballad.