November 12, 2019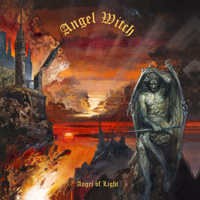 The flow of the Don't Turn Your Back main motive, impressively twisting into the introduction, captivates us into a whirlwind of turbulent emotions, bringing to the fore the emotional vocal feelings, rolling out their impressions at the average pace of the chorus and flying away into the fast-paced zeal of the chorus. The pulsating rhythmic narrative continues the Angel Witch (ex-"Lucifer") - Angel of Light album, bewitching the bewitching mystery of instrumental bridges and intently intriguingly intriguing before unfolding the musical essence of the Death from Andromeda composition. The gloomy echoes of ancient curses emerges from the shady haze, We Are Damned ghosts capturing the wanderers in their fetters and enveloping them with their twilight charms.
So soft and romantic ballad The Night is Calling continues the sound of the album, crowned with notes of mystery and the mystery of mystical forebodings. But the guitar solo completes the composition, introducing the trends of restrained drive before the final chorus. Giving the ballad riffs shades of gloomy mystery Condemned processes on the verge between the ballad and the mid-tempo composition.
The Window of Despair main motive swirls in whirlwinds of despair, flying away on the wings of an unbridled drive, but giving vocal phrases notes of epic mystery. But I Am Infamy rebels against obstacles and obstacles, preparing to crush any obstacles in its path. Charming guitar solos of instrumental fragments complement the sound with a peculiar charm. The title track Angel of Light completes the album, combining fragments of a mid-tempo drive with bewitching melody.