February 06, 2019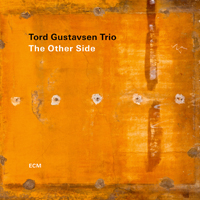 Thoughtful romantic meditations of the The Tunnel composition with a leisurely wise atmosphere begin the instrumental album Tord Gustavsen Trio - The Other Side, shrouding in thoughts and feelings, weaving a lace of reminiscences, enveloping everything around with a phantom haze.
The mysterious sacrament begins the Kirken, Den Er Et Gammelt Hus with a muted twilight, then the musical passages interlace the string motifs with fascinating lace of keyboard passages.
The gloomy Re-Melt introduction develops into a charming wave of inspiration, enveloping everything around with sparkling sparkles of unique charm, the keyboard solo inspires and resembles unforgettable accomplishments from the past.
Muffled and mysteriously, the keyboards pass the spellbinding Duality intro, then, as if invisible shamans and unknown spirits, roll out a canvas of imaginary scrolls, winding in the endless expanses. Ingen Vinner Frem Til Den Evige Ro as if continuing the previous composition, the drums brokenly develop their parts, the keyboards progressively weave a fascinating lace of epic narration.
The Taste And See main motive unhurriedly develops, dancing like an illusory statuette of a toy ballerina, writing out fascinating pirouettes of their movements in the surrounding spaces.
Fascinating and mysterious rhythm creates inimitable fractal structures, brooding, romantic guitar passages intertwined with these rhythmic delights in the delightful musical lace of the Schlafes Bruder composition.
Thoughts of the keyboards solo are juggling with long-lasting memories, embodying in the Jesu, Meine Freude / Jesus, Det Eneste song's music sorrow from lost and unfulfilled hopes.
But hopes and inspirations do not go away, they only disappear into the background and return again to the sound of The Other Side title composition. In her music manifests melody, which becomes the leitmotif of the album.
As if finishing the sounding of the title composition, the O Traurigkeit song concentrates on painful reflections, like sending long-standing memories into oblivion.
Mysteriously and thoughtfully, Left Over Lullaby No. 4 intrigues before listening Curves, that finals album with a soft atmosphere of enchanting inspiration, embodying the musical nuances of the album and inspiring to wait for the next releases of this artist.