February 03, 2021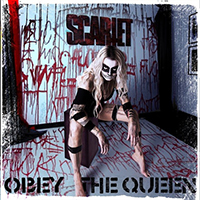 The siren wakes up the inhabitants of the new world, who are shown the rules of existence in it, then the title composition of the Scarlet (SWE) - Obey the Queen album marches in a gloomy march with a crooked recitative dedicated to the mechanized monstrous machine. But then the vocals of the adepts lay new hope. The I Spit Fire combines mystical echoes of ancient fairy tales with rebellious recitative and playful embodiment of legends about fire-breathing dragons.
The modernistic and futuristic development of the Ugly Fucker narration of ancient fairy tales embeds even deeper into the atmosphere of the album, complementing the vocal part with male vocals. The #bossbitch track hardens the musical essence with waves of harsh drive combined with vocal recitative and profanity, complementing the meaning of the lyrics of the previous composition.
The weeping chants of the singing lady set the sad mood of the sound of the Love Heroin ballad. In the lyrics of the composition, despite the incredible sadness, a completely conscious meaning is discernible, after which the Zodiac walks along the crust of an epic tale and mystical mystery. In this song, in a very fierce and severe form, expresses indignation to the Krokodil drug, which devours human flesh.
Rhythmically driving in musical measures the Beauty & Beast track complements their sound with vocal appeals. The narrator of the story about the Devil Twins prepares the listener for the perception of this story in musical performance, transferring to the atmosphere of the eerie events associated with it. The symphonic musical lace of the Final Shot incredibly melodic ballad completes the album with romantic sadness in alternation of male and female vocals.