June 08, 2019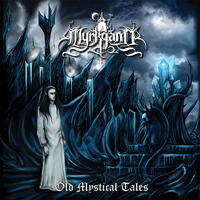 Unrestrained and uncontrollably drawing the listener to stream Of the Blue Fire, the music adheres to the main motive, complementing the vocal phrases of the screaming with growling notes. Then the story of the invisible sage gives the beginning of the Myrkgand - Old Mystical Tales album epic outlines.
Epic influences of guitar riffs twist the sequins of keyboard passages with mystical turns, then a fast-moving musical break anticipates the Black Thunders of Zyr vocals intro. The vocals pumps into the music first ragged rhythm, then flies away on the wings of a swift musical whirlwind, continuing in the next composition Foreseeing the Future with an unrestrained swirl of musical rage, around which the vocal twists the lace of alternation of screaming and growling. Guitar passages gives this fast-moving ride the charm of melody.
The fabulous narration begins the Aquariu song with admonitions from the main motive, then several musical genres intertwine into the sound - epic viking metal is alternating with fast-moving passages with clean vocals peculiar to power metal musical style.
Exploding with impetuous drive, crowned with enchanting guitar and keyboard passages Ghostwoods composition moderates swiftness with the introduction of vocals, rolling waves of musical narration following vocal narration.
The leisurely narration of the mystical Dunkelelf anthem envelops the listener with an obscure haze of ancient tales and legends, then the guitar solo soars up with an unrestrained flash anticipating the epic narrative of the chorus.
Acoustic guitar busting develops into epic waves of the Summoning the Cryptic Dæmonium main motive, vocals alternates screaming and growling, marching along a majestic procession of a fairytale narrative that develops into a fascinating chorus ballad.
In the No Impeto da Furia composition, the group returns to its native roots, rolling waves of harsh drive and bringing gloomy notes to the musical image with phrases of lyrics in Portuguese. The melodies of the organ begins the Trolls Filthy Madfeast saga with a charming, mystical atmosphere, then the vocals occupy a dominant position, the remaining musical passages occupy an intermediate position between the dominant vocal phrases and the background of the keyboard symphony, which comes to the fore again in the instrumental bridges. Chthonian Cyclops completes the album, first carried away by the unrestrained flow of a guitar drive, in which rare flashes of keyboard modulations flash, then the vocal slows down the tempo of the narration and comes to a combination of swiftness and significance of musical lace. The final part of the composition complements the chants of the singing lady.