April 19, 2016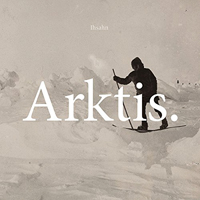 Lyrics, hardened in their temples sometimes can be Disassembled. Evokes its vicious thinking in their broken mind by rage sounds of harsh vocals with the naughty guitars - that's all! That sprightly staff opens the Ihsahn - Arktis.
Once I've born, lived few years - if not i have to listen for intro of Mass Darkness - it comes with me, amongst me... changeable rhythms takes away confessions from your mind - you look forwarw w\o regrets, w\o doubts! Argh!
Insect swarm surrounds you from start of My Heart Is Of The North - then swarm hides away and vicious guitars takes your away from ordinary reality to change your point of view.
Hertbeat! Once! Heartbeat! Twice! Heratbeat! Tripple! that was an intro of South Winds - next part harshed vocals screams its part of history, dissolves all around by its ugly screamin'...then clear vocals part....oh, man! Let get ready for it! Or not?! Fuck Out!
You haven't fully born? There's a chance to complete unfinished - intro of the In The Vaul sounds very similar to another track, so you can done your dones as well as U can!
For long, intriguing beginning starts Until I Too Dissolve continued by drivin' guitars and raged tempo - quite enough to deceive: tedious, sluggish vocal comes and leads. Est du whishes!
Straight, flat, intermittent, pulsing - everyone hears his own way. And what's yours? Under Pressure or not? Presses, compresses to planar blank - which hollowed by the plunger into strict details. That technology, thats process described below - listen to that chronicle!
Acoustic strings start Frail to accomplish your expectations with thir raged and torn sounds. Vocals plays the tempo and riffs like with the pointer - where will indicate - there to follow!
Dixieland plays its tune, saxophone leads along the dreamy aspirations into Crooked Red Line, that brokes that line with their harsh submission to take off the mind's eye! After that, lyrically melancholic voice, saxophone indicates - that they are not destroyed, simply stepped aside.
Silent confession, heavenly fiend, verbal violence, sensitively-hells Celestial Violence submitted as well! Piano notes, Swedish speeches, quietly, peacefully ... Til Tor Ulven (Soppelsolen) maybe that's witches?! Finished story, calm away through... as for me - GREAT! You can to improve?