October 29, 2020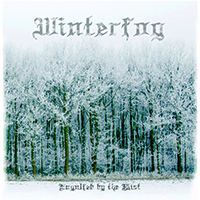 Beginning with twilight mystery, the Storm of the Frozen Blood then complements this musical mysticism with a swift drive, accelerating the pace and crowning the musical narration of the first composition of the Winterfog - Engulfed by the Mist album with an emotional narration of a vocal tale.
Rolling in waves of mid-tempo march, the Into the Blizzard song brings vocal phrases to the crests of musical waves. The Iceberg track develops a solemn unhurriedness, weaving musical passages in a mesmerizing waltz with vocal phrases. But then the vocals appeal to emotionality and pump up the waves of an ever more rhythmic and austere march in a solemn procession of its own significance.
The Calling Forth the Legion harsh procession of gloomy knights envelops the veils of twilight symphony, combined with vocal prowess in celebration of past battles and future fights. Focusing even more on the significance of the mid-tempo march procession the Blackwings song develops these motifs into a majestic anthem, enchanting with unhurried melody and epic musical mood.
The sound of the surf is preceded by the Under a Cold Sky whirlwind of a musical thriller, ridden by vocal emotion and rushing through the coastal fog in a fast-paced race. The Our Nature Forgotten ends the album with a solemn procession, somewhat accelerating the musical tempo in the instrumental bridges before the introduction of vocals and with vocal phrases.