June 07, 2022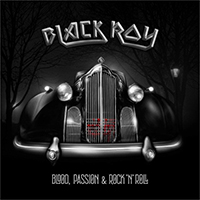 The intriguing introduction ends with a bright guitar solo, anticipating the introduction of the vocal story of the Let Them Pay song. Rolling in waves of harsh and meaningful musical narrative, the Foolin' (No More Part of the Game) musical composition continues the musical narrative of the Blackroy - Blood, Passion & Rock'n'Roll album with a rhythmic, focused and concentrated march. The guitar solo of the intro weaves the musical lace of its Some Special Kind main motive, sometimes receding before the stubbornness and persistence of the vocal appeals.
The gloomy romantic mystery of the introduction ends with a dense and stubborn tread of the Life Without Love musical march. The solemn and majestic sound of the Sing from the Grave anthem, which honors valor and elevates past deeds, enchants and captivates the listener, preparing for the bewitching sound of the Keep Your Fantasy composition, which accentuates the musical fragments with final guitars solos.
The guitar riffs of the Years of Pain song rhythmically and forcefully drive the tread of the main motive into the chosen path along which the vocal narrative marches. The guitar solo entices you to follow him along the path paved by his sound of the King's Tears composition with the pace of a rhythmic march. The music wraps by guitar riffs set of the intro vocal phrases, hardening the part in the verse and ascending in the chorus, again and again emphasizing the title of the Holy Crusade song. The Girl from Stockholm romantic ballad closes the album with an inspiration of travel memories and travel experiences.