September 30, 2021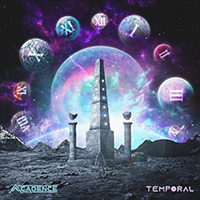 Music mystery pulsates the unclear heartbeat patient, starting the musical narration of the Acadence - Temporal instrumental album with the sound of the Moments track. The Synchronised composition develops the motives of the previous one, complementing them with risks and the atmosphere of unclear and inexplicable anxiety. Scattering anxiety and ambiguity, the Paradox is marching the majestic procession of a solemn march, an wrenched musical image of bright guitar solo and keyboards passages.
Reggerently enveloping the listener with a fascinating mystery, the Elapse composition seems to be transferred to the distant shades of space wanderings. The Pendulum creates an atmosphere of twilight anxiety and unclear expectations, bringing elements of hope encouraging keyboards solo. The Sequence creates an even more mysterious musical atmosphere, artistically varying progressive musical intonations.
Withdrawing electronic waves of musical thoughtfulness on the forefront of the musical image of the Ephemera composition, the sound of the album enchants unusual and fascinating musical discoveries. The Perception track is charged by the wave of a musical dusk, rolling with rhythmic density, accusing sparkling keyboards, anticipating the sound of the Temporal (Feat. Gabe Pietrzak) final composition of the album, which was noted by the participation of a guest musician, giving an album even more brightness and artistry.