December 07, 2019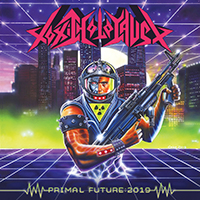 An unrestrained wave of musical frenzy carries you into a wave of drive, Chemical Warlords vocals phrases at first support this flow, but then add significance and dimension to the narrative, retreating in front of the fast-paced musical passages that offer guitar solos. The Black Out The Code music, raising the sparkling banners of the guitar solo to the introduction, becomes hardened in the continuation of the album, then the vocals, entering into unrestrained fury, brings into the sound of the Toxic Holocaust - Primal Future: 2019 album trends of this style that can never be eliminated by anyone.
Futuristic fractures culminate in the pulsation of a musical entity enveloping a vocal narrative with a tunnel of veils of the New World Beyond main motive. Bringing the blade of fierce musical and vocal passages to the front edge of the narrative, New World Beyond stands as introduction of the Time's Edge song, combining epic mood and combat motifs typical of thrash metal music ... a funny couple, what can you say!
The title track of the album Primal Future begins with a bewitching unity of fairy-tale shades and futuristic echoes, then rolls with the harsh waves of a majestic march, hardening the vocal part to so tough harsh.
A deadly dance flickers in a cycle of blades, Iron Cage is partly returning to the older styles of musical trends. Controlled By Fear saddles the musical stream of the main motive and unrestrainedly rides, deadly waving a new-found blade.
Clouding the narrative, Aftermath hardens the vocal part, enveloping it with a kind of obscure tunnel of mystery. However, drive and energy are saved! Cybernetic War continues the final passages of the previous composition and ends the album with a pulsating return to an earlier style (well, NWOBHM) and inspires fans to broaden their horizons.