October 06, 2020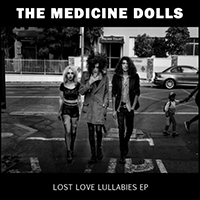 The Kiss Kiss Kill Me song begins the Medicine Dolls - Lost Love Lullabies (EP) album with a whirlwind of fun and rebellious swagger, but sometimes it focuses on doubts and reflections, but then flies off again in a whirlwind of fast-paced musical entertainment.
Beginning with pulsating march, the Sick Of Anaesthetic then crowns the musical narration with covers of artistic keyboard passages and brings the flavor of a fairground theater festival with guitar riffs. The Best Dress continues a similar style, bringing rock 'n' roll guitar riffs to the sound of musical narration.
Keeping the shades of traditional music, the Take The Bitter With The Better keeps the tempo down to mid-tempo dance in instrumental bridges and indulges in saddened doubts with vocal phrases. Pounding the intro with rhythmic pulsations of the way for rebellious vocal phrases the If I Had Your Daddy's Money then captivates with a bright union of male and female vocals in the vocal part.
The Lost Love Lullaby title track begins with a sad ballad, whipping up intriguing foreboding with guitar riffs. Sometimes the musical passages brings the spirit of melodic romance into the sound of the composition. Then the musical whirlwinds of the final composition of the release twine more and more variations of the musical lace around the vocal phrases.