January 02, 2020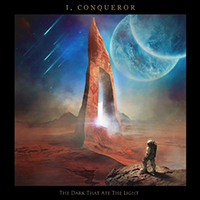 Significant grandeur inspires the artistic development of melody, enveloping the beginning of the I, Conqueror - The Dark That Ate The Light album with epic narratives of The Lamb song. Developing the majesty of the musical narration Dead Space Between The Stars slows the pace down, raising the banners of the solemn anthem, but complementing the musical image with the progressive abruptness of verses and instrumental bridges.
Pulsing in the rhythmic waves of the stern march The Gift Of Annihilation brings severity and stubbornness, pumping up the militant essence of the marching narrative, but pure vocals bring epic inspiration. Preserving the rhythmic mid-tempo rhythm, Living Imagination brings vocals reflections to the forefront of the musical image, complementing them with severe and painful passages of instrumental fragments. As if developing and continuing the motives of the previous composition, Clay keeps the pace and pumps up stern power and drive.
After rhythmic mid-tempo marches, Through Struggle artistically varies the rhythmic structure, combining rapid whirlwinds and viscous musical variations in the musical lace. The mysterious mystery of muffled thought weaves A Quiet Place ball of whisper and soft romantic tunes, distorted by the echoes of electronic impulses. But after these reflections, I'm Not Prepared To Go explodes with the deadly dance of rampant drive, intertwining vocal rage and musical rage, twisting around the axis of rhythm in vortices, preserving the medium-tempo structure of the musical narration. The Great Collapse completes the album, captivating with waves of severe drive, forcing exciting vortexes of the main motive, lifting severe vocal phrases to the top of musical waves.