February 05, 2021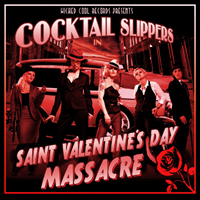 Energetic musical bursts complement the stubborn vocal exclamations, rising in a swift whirlwind of energetic playfulness in the Sentenced To Love chorus. The You Do Run song retains the style of the previous composition, giving the vocals a more hopeful and bright sound and creating a majestic background of the musical image with the keyboard passages. The title track continues the Cocktail Slippers - Saint Valentine's Day Massacre album with rhythmic pulsations with sparkling flashes of melodic keyboard colors and dreamy vocal phrases.
The rhythmic pulsation of the intrigue creates an intriguing anticipation, culminating in a guitar solo and inspired vocal narration, but then a hint of haste emerges in the In The City composition in a dance with a keyboard symphony. Despite the name, the Don't Ever Leave Me song continues with an inspired musical atmosphere of romantic ballad, adding some notes of sadness only with vocal phrases. The Love Me Back complements the sound with echoes of dark rock 'n' roll, whipping up the significance of the demands. Keeping the influences of the genre of music the Gotta Crush is lifting up inspired banners with the flowers of love.
The Anything You Want and Fool For You tracks slaps and complements the sound with rebellious appeals of 80s glam rock. The Round & Round transforms the sound of this musical style with alarmed inspiration, as if anticipating the transformation of the changes to come and preparing for a sparkling ascension. But the She's A Fool song returns to the traditional sound of holiday hymns and majestic songs, which is somewhat at odds with expectations due to the title. The final composition of the album Heard You Got A Thing For Me embodies the possible consequences of over-celebration, although it supplements vocal reflections with symphonic orchestral melodies of violins.