February 12, 2017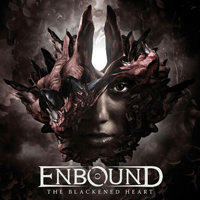 Imbued with a sense of yourself, thoughts, wishes, we need Enbound - The Blackened Heart tells, certainly!
Fabulously otherworldly voice begins symphonic romantic ballad Falling, combining the speed of nervous frills tenderness melodic motifs.
Rhythmic rigors in their sudden bursts creates the demand Give Me Light - vortices melodic guitar riffs support the lyrics of emotional vocal phrases.
An intriguing assumption of the Crossroad turns into contrast of the instrumental rushes with gentle tenderness of delicate vocals.
Starting with quiet romantic phrases Get Ready For delightful suite transforms into grand pompous monolith that ascends futility of the pettiness and small minor experiences.
Romance continues to bear its lofty motives in the statment Feel My Flame, which raises the demand to combine and discuss sensual impressions.
The rhythmic march among heralds horns uplifts and ancient motif on the pedestal of a romantic ballad Twelve, combining the emotional sensibility of vocals, exciting symphonic melodies and strong accompaniment support.
Sharp rhythmic riffs lead the narrative of Holy Grail, fusing sharp instrument parts with exquisite vocal and keyboard passages.
Soft, sensual melody of Hio intro turns in repid rushes, that compounds sublime keyboards with gelicate drive of other band.
They Don't Really Knowsounds like the epitome of romantic feelings from the beginning to the end without getting any sudden jerks or violent rhythmic impact march.
Violent rhythmic fusion of melody and drive Make You so Unreal completes the album for its impressive melodies.