August 06, 2016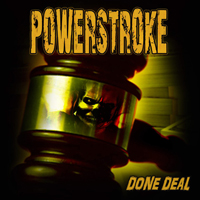 There is doubt, uncertainty, or the desire to do everything otherwise? Too late - Powerstroke - Done Deal !
The cry starts Blood Oasis, smooth rhythmic melody behind it. Vocal compacts the music, making it more rigid and dense, then turns from harsh to clean. But the rage and fury returns its rhythmic march at the end of the composition.
Dramatic and stunning intro, spiced from the first moments with screaming vocals starts Blessing in Disguise. Then the vocals changes from screams to growl, all except melodic breaks in bridges still the same crazy mad rush!
The slow rhythm walks deliberately, pulsing with viscous melody and its dense riffs, after the intro Walk the Talk accelerates its pace, spurred by vocal phrases, that stubbornly spills the mood in the volatile and diverse style.
Acoustic guitar fingering riff gives us a portion of the blues under the howling wind, Then the screaming vocals to their music fills with rage and anger, giving it strength and power, harsh shouts Hold On a lot of times! A slight distraction for the confession of clean vocals beneath the dreamy lyrical motif, and harshed HOLD ON! returns.
Dance rhythm guides Call It a Day on the path of exciting pleasure, recreation, entertainment and positive emotions. But after brief bridge screaming vocals leads to a different perception of reality, plenty strung problems and unfulfilled desires.
Viscous beginning shared concepts with ragged rhythm, pointing that Your Funeral, No Trial, continuing explanation of this statement at an average pace, methodically hammering its meaning in the minds of the listeners, sometimes making short breaks with explanatory phrases in them.
The company in a pub shouts Judge Rules No Violation several times in the intro. After the fun of drunk partygoers inside the bar, evil spiritis also continuing to screaming that phrase, not supposing failure of the rules! Then vocal palette gains harsh and growling shades, image shined by all of the colors.
The dense intro's atmosphere scatters nervous screaming, it prevents reading Poetry to a Pig. After crush all barriers to the nines, pigs listens those poetry.
Consistent and predictable in the begining, title track Done Deal turns for a brief moment in the dense mortal blow, then returns to the usual course, interrups for a moment with melodic guitar solo. Then repeating this sequencem, culminating the track by viscous and forceful riff.
Thrust urgent pace, followed by a dense, but melodic tune gives everyone around the figure that Last in Line can't surrender for any reason! He stans still and will stand for all battles!