December 11, 2021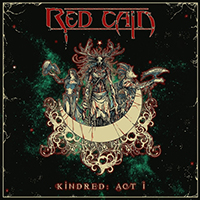 Starting with a Russian-language vocal monologue and militant proclamations, the Snakebouquet track then spins the musical flywheel of the Red Cain - Kindred: Act I album with a bright unity of vocal emotionality and musical melody.
The bright and sparkling introduction charms with a romantic musical impression, long and carefully anticipating the vocal introduction of the Midnight Sarabande ballad.
The keyboard symphony creates an atmosphere of mystical reflection into which bursts the rhythmic solemnity of the Zero progressive musical march, topped with majestic vocal reflections.
The Blood & Gold song crosses the threshold of romantic symphonism, softening the sound to a sad ballad that elevates the inspired vocal ruminations to the top of the musical image.
Slightly accelerating the tempo of the musical march, the Juliet (feat. Daniel Louden vocals) composition overshadows the musical romanticism and combines the main vocals with the tunes of the guest vocalist.
Again entering with a Russian-language vocal monologue, the All Is Violence composition hardens the sound, captivating with the progressive complexity of the musical narrative of the battle march. The Wing of the Crow (feat. Kobra Paige) track again uses the influence of the guest vocalist - this time bringing in the melodic tunes of the singing lady, then completing the sound with vocal unity in a driving mid-tempo symphony.