April 13, 2018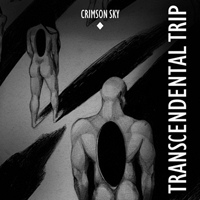 Reflecting on the introduction of the main motive, Searching For Light vocal part begins with the deep, severe growling. The jester of a bike starts changing the rhythmic structure of the composition, taking the vocals in dark emotions to another level of experience, completing this part with wise reflections. Then the female vocals turning into the Ukrainian language brings waves of romantic sadness, displaying the binary nature of the Crimson Sky (UKR) - Transcendental Trip album.
Severe male growling alternates with sensual emotional female vocals, which dominates in Split Mind Wraith composition, further exacerbating the contrast of the musical component. Keyboards write symphonic delights on a dark background, also supplementing this contrast perception.
The restrained soft instrumental composition Blind Alley intrigues the anticipation of the coming changes, enveloping the pacifying haze of reflection and doubt in future events.
Starting with a pensive acoustic mist in a soft, calm introduction, the Mag Mell Osmose main motive develops again in two directions - then hardened by severe anger, overwhelming the musical rage with demonic growling, then pensively reflecting with gentle female vocals and punctuating these contrasts with melodic bridges.
Staying in meditation and doubt, Ember Of Deities combines vocal conjectures and vague guesses, starting soft with the narrative of female vocals, continuing with meditative phrases of the growling, enveloped in the dark haze of viscous musical accompaniment.
Acoustic guitar and violin slowly develop a romantic introduction, continuing a mysterious romantic instrumental ballad Caught By The Rain with a solo violin, pacifying irritation with bad weather.
Thoughtful violin passages and soft instrumental accompaniment envelops the reflections of female vocals with misty fog, then the Beyond Senses music turns into a mid-tempo drive with male growling, keeping the main motive. In the bridge, the soft romance of tranquil melodies returns, anticipating the instrumental solo, majestically inspiring the melodic break of the instrumental part. The alternation of male and female vocals precedes the final piece, raising the sound to a new level of melodic drive.
The album ends with Quinta Essentia composition, permeated with notes of jazz, from time to time in instrumental bridges giving out the torrent of the doom metal drive. The instrumental part begins with majestic music, then the solo saxophone certifies the influence of dixieland on the composition.