May 18, 2021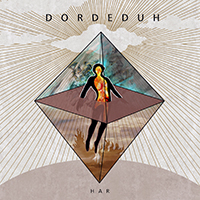 Starting a musical narration of the Dordeduh - Har album with variations of a restrained drive with a harsh rover and artistic dreamy fragments with charming clear vocals, the Timpul intailor song embeds the unity and alternation of contrast elements a very composite musical composition. The In vielistea uitarii track appears as a slow processing of a solemn hymn, enveloping with the atmosphere of epic fairy tales about the exploits of heroes and epic battles.
In a dreamy atmosphere of mystery, the Descant vocals part begins muffled in a whisper, then brings clean vocals to the forefront of the musical image. After the distant gloomy chorals and the drum fraction, the Calea magilor marchs a leisurely battle march, then again and again emphasizing the vocal phrase.
Returning back to the greatness of epic saga, the Vraci de nord song enchants the mysterious intrigue for the development of the musical composition. The Desferecat immediately displays pensive tunes of pure vocal on the forefront of the musical image, subordinating the musical procession of instructions and mood of vocals changes.
Enchanting with the keyboards solo intro artistry, the De neam vergur song weaves the charming lace of romatic symphony. The Vaznesit instrumental suite completes the album by wordless chorals with organ keyboards solo.