August 31, 2020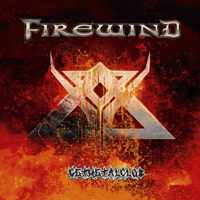 The inspirational and romantic guitar solo of the Welcome to the Empire intro is transformed by rebellious drive, transforming epic inspiration with a furious rebellion of valiant rampage. Rolling waves of furious drive the Devour song continues the musical narration of Firewind - Firewind album with ferocity and compaction, combining melody, speed and drive in a single musical narration. Powerfully and rhythmically, music and vocals are woven into the march of the Rising Fire severe mid-tempo marches. The Break Away chases in an unbridled jerk of frantic drive, sometimes slowing down in sophisticated thinking. The pulsating urges of a battle march intensify thoughts and insights, anticipating the development of the Orbitual Sunrise composition in the musical essence. Inspirational romanticism of the Longing to Know You majestic ballad raises the banners of greatness and valor to heaven, unattainable until now.
The fast-paced drive of the Perfect Stranger song's musical passages twists a deadly round dance around the vocal narrative. The Overdrive returns to the sound of traditional metal music, as if scattering and discarding decades of experience, but forcing the harsh drive of the mid-tempo anthem. Medium-tempo drive and typical inspiration of vocal narration raise the banners of the All My Life song in the vastness of legends and fairy tales.
Combining swiftness and drive and melody the Space Cowboy track unites futurism and legendary tales of the wild west. The Kill the Pain song concludes the album with a frantic musical thriller.